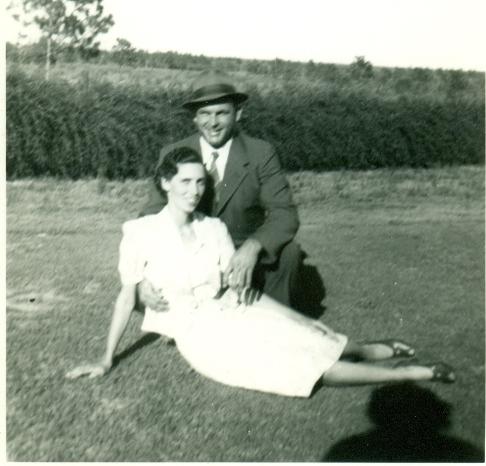 On January 30, 2009 I went to visit Pearl at Avante in Mount Dora. As I walked into Avante, her son Emory was sitting outside waiting for me. He and I went in together to see his mother. Her family had just visited with her the day before to celebrate her 92nd birthday. She still had her birthday balloon tied to her chair. Pearl's health is not as good as it used to be, but she still has a very sharp memory.
It has been my privilege to know Pearl since I moved to Sorrento over 50 years ago. I have fond memories of Pearl and her family and feel honored to have interviewed her.
Pearl is the oldest living resident from Sorrento. She was born in Bay Ridge on January 29, 1917. Bay Ridge is a part of Orange County, just a few miles south of the Lake County line on CR 437 South. Many years before Pearl was born Sorrento was also part of Orange County.
Pearl is the first child born to Gertie Edna (Huggins) and Russell Sage Chaudoin. She is one of 9 siblings; five girls and four boys.
Johnnie's parents were Mary Bell (West) and Charlie Boyd. Johnnie came to Sorrento when he was eight years old. The family rode in a wagon while Johnnie rode on his donkey all the way from the Carolina's. Johnnie started working at the age of 13 to help support the family because his father died at a young age with pneumonia.
Pearl attended school at the old wooden school house in Sorrento where she met Johnnie. One of the things she remembers best of all is him caring her books when they walked home from school together.
They started courting at a young age and since there wasn't much to do around these parts back in the early 1900's they had to find things to do. Sometimes they would go for long walks from Sorrento to the old gas station in Mount Plymouth and back again.
February 21, 1934, Pearl and Johnnie borrowed a car and drove all the way to the courthouse in Orlando to get married. When they got there, they couldn't get married because Pearl was only 17 and she needed her parents consent. They drove all the way back home just to find out her dad did not want his little girl to get married, so they had to do a little persuading. He finally decided to go along with them, but this time they drove to Tavares. They went to Judge Tally's office and it was closed so they went to his house and found he was out of town. Then they drove back to the courthouse and they got someone else to marry them. Johnnie and Pearl finally tied the knot. After the ceremony they went back to the car only to realize that Johnnie forgot to put the ring on Pearl's finger. What an exciting day they had with lots of good memories. But the day wasn't over yet. They celebrated their wedding that evening with a baloney sandwich and a cold drink for supper.
In 1935 Johnnie worked for Engersol Groves which was located at the end of Vine Street next to Wolf Branch Road. Johnnie worked for fifty cents a day from daylight to dark doing grove work. He did survey work for Wilson Cypress Lumber Company, then worked for the city of Apopka as a police officer for about 8 years and worked for Libby-McNeil-Libby as a Citrus Forman. He was Chief of the Sorrento Volunteer Fire Department and also worked at Lake Region as a grove worker, after which he retired. Since he was no longer working, he had lots of time to visit with neighbors and friends around town.
In 1936 their son Emory was born. At that time they lived in a little house down the dirt road behind the house on Averill Street (Hwy 437). The house on Averill Street is now a Pizza place. After having Emory for a few short years Pearl and Johnnie met with heartache in their family. They had three other children that died at birth. Their second child Ester was born June 5, 1939; Johnnie Jr. was born January 20, 1943 and Marvilin was born March 6, 1945.
At one time they lived in a one-room house that was located on the property where the Handy Way store parking lot is now located on CR 437. This house was the living room of the old Driver house and also the living room of the home that Buddy and Maggie Fisher owned from 1959-2003.
In late 1936, at the age of 25 Johnnie was surveying for Wilson Cypress Lumber Company. One day Johnnie and a co-worker, Glen Edwards heard a little racket in a palmetto patch, so they looked in to see what it was and much to their surprise were two little cubs. They looked at each other then looked around to see if the mama bear was around. They each picked up a cub, they started to squall and the whole palmetto patch came alive with big mama bear standing up. So they lit out and started running toward the pickup truck, the mama bear was gaining on them. Glen dropped his little bear so he could run faster. When the mama bear got to the cub that Glen dropped, she stopped running. That gave them time to get to the truck, almost snatching the doors off trying to get in. They drove away as fast as they could, Johnnie still has his baby cub and he carried it inside his shirt for the rest of the day. Then he took it home with him
They named the cub "Bob" because of his bob tail. Pearl bought Pet milk for "Bob" and fed him from the bottle. The only problem, when she fixed Emory his bottle "Bob" would grab it, so Pearl had to feed "Bob" first. "Bob" started sitting on the treadle of the sewing machine, rocking while drinking his bottle.
Pearl & Johnnie had a baby son, "Emory". One day a long time friend named John Ferris gave "Emory" the nicknamed "Cub". That has been his given name all his life. A lot of people do not know him by his real name.
The bear would follow Johnnie all around town like a baby. One day he brought the cub to the school house where Pearl was watching a play. Everyone there saw the bear and was really scared.
As the bear began to grow up they were no longer able to let him run free. Everyone started picking on him so they had to cage him up. They kept him in a cage at the Wilson Cypress Lumber Camp. At night they would put a canvas over the cage so he wouldn't catch cold. Much to their regret, one night someone forgot to cover him up and he got sick and later died.
Johnnie and Pearl rented the little house on Averill Street, (Hwy 437) for several years before they purchased the property. The house and property was included in the 28 acres they purchased from Battles Lumber Company. The land was located in the South East block of Hwy 46 and 437 south.
This property was not only home for Pearl and Johnnie, it was their farm. They raised chickens, goats and cows, and they had a donkey that they used to plow the field with. At one time she had a herd of 23 goats; some of them were milking goats. Pearl gave goat milk to friends and relatives. Pictured above is Pearls Mom & Dad standing beside one of her goats. They also boarded horses for other people as well as take care of their own horses.
Pearl and one of her neighbors, Ida Fisher, would take turns going down to the barn to milk the cow. As you can see neighbors worked together and helped each other whenever possible.
Pearl was a Practical Nurse for many years.
Pearl loved to quilt; she belonged to a quilting bee that met regularly in the Community Building which was located on the property, which is now Judy & Cub Boyd's front yard. Some of the other ladies that quilted with her were Bertie Futral, Maude Ferris and Mary Boyd. After they finished a quilt they would sell it for $20.00 and donate the money to the Sorrento Baptist Church.
In the early 1960's the Fed's had information there was a Moonshine Still in Sorrento and some of the local boys was running moonshine. The Fed's went to the site and destroyed everything by dumping out the moonshine and poking holes in the 55 gallon drums. The still was located at the south end of Church Street up in the wooded area. The moonshiners needed water to make moonshine so they built their still up in the woods beside a long stream. The stream was only a few inches deep so they dug a hole in the middle of the stream deep enough to dip the water they needed to sour the mash (corn, sugar and yeast). Curiosity got the best of some of the hometown folks, so they went out to the site after it was destroyed so they could see the old Still.
They sold sections of their property to different ones at different times. Some of the businesses that are now on these properties are; A Pizza Shop, The First National Bank, the U.S. Post Office, WLW and Marty Norman's land.
Pearl had a lot of talents. She loved to work outside with her animals and loved taking care of her beautiful lilies. She loved to crochet doilies and dresses and hats for dolls. She also hooked rugs, quilted did and lots of other things. She also loved her animals, over the years she had a lot of little dogs, pet birds and squirrels.
Over the weekend lots of hot air balloons would fly over their property and land in their back pasture. It was the most beautiful sight to see all those balloons.
Johnnie and Pearl have 2 grandchildren, Lisa (Boyd) Richenberg and Jeffrey Boyd.
Lisa has 3 children and 6 grandchildren. Jeff has 2 children and 1 grandchild.
In 1972 Johnnie and Pearl built a new house just around the corner from their old home. Pearl continued living there after Johnnie's death until just a few years ago.
March 18, 2002, Pearl's granddaughter, Lisa (Boyd) Richenberg had a grandchild named Weston Edge, when he was born this made another five generations in the Boyd family. Pearl C. Boyd, Emory Boyd, Lisa (Boyd) Richenberg, Wesley Edge and Weston Edge.
May 25, 2006, Pearl's grandson, Jeffrey Boyd had a grandchild named Cody Locke, when he was born this made another five generations in the Boyd family. Pearl C. Boyd, Emory Boyd, Jeffrey Boyd, Falon (Yeager) Locke and Cody Locke.
This makes Pearl having seven great great grandchildren.
Johnnie served on the Sorrento Cemetery board for several years. As you go into the cemetery you will see Johnnie's name on the front gate as a Former Trustee. He passed from this life on April 1, 1996 and is interred in the Sorrento Cemetery in their family plot.
Thank you Pearl, you and Johnnie will be in our hearts and memories forever.
Interview by Maggie Fisher
Article by Maggie Fisher and Judy Boyd