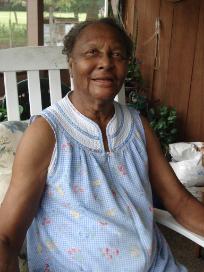 Interview by Maggie Fisher and Shirley Meade.
We were honored to be guest at the home of Minnie on Monday, September 29, 2008. Her daughter Minnie Bollar was also present. She resides at 31837 Hilldale Ave, in Sorrento, formerly known as 75 Longacre Dr.
Minnie (Williams) Bell Harvey was born February 24, 1921 in Lumpkin, GA. Her husband Robert Lee Harvey was born February 10, 1910. He passed from this life April 24, 1984. They have 8 children. Minnie (Harvey) Bollar, Zethel Loerine (Harvey) Williams, Corrie J Harvey, Robert C. Harvey, Thomas M. Harvey, Beaufort M. Harvey, Beverly A Harvey and Leslie Ray Harvey.
Minnie is the daughter of the late Sandy Walter Robert Williams & Eula Bell Williams.
Minnie and Robert migrated to Sorrento in 1953 from Stewart County, Georgia. Their first home was near the railroad track north of Bertha's Produce. Later they moved to the Strawberry Avenue neighborhood.
October 26, 1957 they built their home on the acre lot they purchased from Ed "Possum Slim" Miles for $70.00.
One of the first jobs they had was working in some of the area citrus groves. When she & her husband worked at "Zellwood Farms" every day they would walk out to Hwy 46 where they would catch a ride to work with different people coming from Sanford. They would spend their days working in the fields harvesting vegetables.
During the summer months they did seasonal work. The whole family would load up in the back of a covered work truck with other families and head out for Sodus, New York, where they would pick cherries, apples, tomatoes and green beans.
When it was time for school to start the Harvey's always put their children's education first. They enrolled them in Sodus Central School in N. Y. Once the seasonal work was finished they would transfer their school records to Milner Rosenwald School in Mount Dora, and Eustis Vocational High School in Eustis.
To help provide for his family, Robert spent a lot of time hunting rabbit, squirrels and other wild game. He also raised hogs and had plenty of fresh vegetables from his very own garden.
Starting in 1968 Minnie spent the next 12 years doing housework and cooking for Arthur Glover who lived at the SW corner of 44 & 437 N. She also worked for Linda and Butch Askins the owner of "Huey's Grocery", now known as the "Sorrento Grocery". Just a few days ago Huey stopped by to see Minnie and come to find out right after this interview Huey's mother, Linda also paid Minnie a surprise visit.

One of the families she worked for was Don and Cindy Gattis, every year they invite Minnie over to their house for a birthday dinner. One year they took her to see an Orlando Magic game. How honored all these folks are to have Minnie in their lives.
They used to trade at the "Fishers Gas Station" with Ernest & Ida Fisher, located where Merv's Mowers is now, then they would go across the street to buy their groceries at "Driggers Grocery Store", where she liked to visit with Molly & Furman Driggers.
In 1992 her daughter Minnie moved back to Sorrento. She and her mother spent lots of time together traveling to visit friends and family. In 2001 Minnie was stricken with a stroke and at that time she had to slow down. She was very fortunate to have her daughter Minnie Bollar here to take care of her for the pass several years.
Just before we left we went out on Minnie's front porch so Shirley could take pictures of Minnie and her daughter. As she began to look around she looked over toward the field near her property where Arlin Bagwell used to plant his watermelons. She also pointed out that beside their home is where her husband used to grow their garden.
Around the late 1950's the "New Hope Missionary Baptist Church", located on Highway 437 North was formed. Minnie was one of the founders and she also had the honor of naming this church.
Minnie said, "one of the nicest things I remember about Sorrento when we first moved here was the beautiful flox that grew along side the roadway and the orange trees in Beulah Scott's back yard". Beulah's place was located across the street from "Bertha's Produce on Hwy 46.
All the love and wonderful memories that hide in the walls of this home, and will forever stay in the heart of Minnie and her wonderful family.
"Thank you Minnie" for allowing us to come into your Home and journey with you through your memories. This great story will always be a part of the history in our great community.
Written by Maggie Fisher